Several associations participate in Pre-Budget Consultative Meeting 2023-2024
A pre-budget consultative meeting with representatives of the Association Professionelle des Transitaires de l'Ile Maurice, Mauritius Freeport Association, General Retailers' Association, Mauritius Tax Payers' Association, and consumer associations such as Association des Consommateurs de l'Ile Maurice and Consumer's Union, was held, yesterday, with the Minister of Finance, Economic Planning and Development, Dr Renganaden Padayachy, at the seat of the Ministry in Port-Louis.
In a statement after the meeting, the Assistant Secretary of the Association pour la Protection des Emprunteurs Abusés, Mr Denis de Speville, recalled that his Association is a Non-Governmental Organisation that fights against over-indebtedness. Since the pandemic of COVID-19, there has been a decline in the purchasing power of the population thereby making households more and more over-indebted, he added.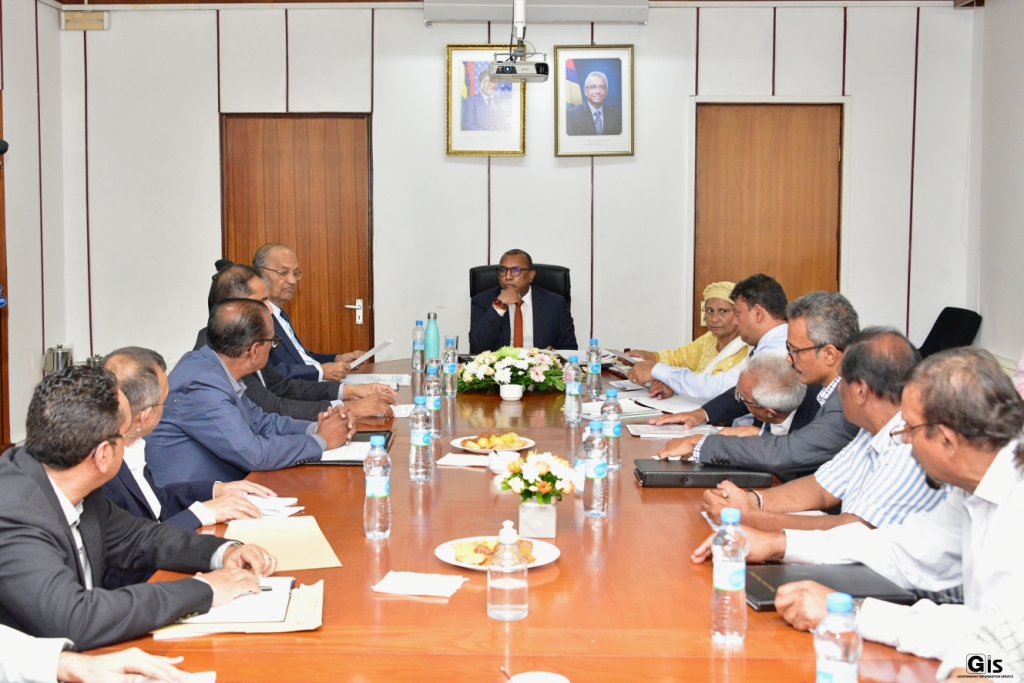 On this note, he indicated that propositions from the Association pertained to the control of temperamental sales, in particular those that offer zero deposits with payment starting after three months or more. "We think that this should only be applicable to products of basic necessities and not to luxury products such as television sets, among others," Mr de Speville pointed out.
For his part, the Public Relations Officer of the Association Professionelle des Transitaires de l'Ile Maurice, Mr Amil Emamdin, highlighted their proposals comprised the restriction of shipping agents such as MAERSK and the Mediterranean Shipping Company, among others, from encroaching into their industry by equally doing freight and logistics activities even though their prime activity is to act as vessel carriers.
Furthermore, he underlined that there is a need for Government support for furthering the development of a Digitalised Freight Forwarding Eco-System based on international standards. In this context, Mr Emamdin requested that Government introduces special loan schemes at preferential interest rates with commercial banks to freight forwarding companies for the purchase of computer hardware and software, technological products, cyber-security logistics, and related expenditures.
Mr Emamdin also observed that the seaport efficiency level has not improved over the past years unlike those of regional ports of Madagascar and Reunion Island, creating a major constraint to attract new shipping lines servicing Mauritius. Proposals made to the Finance Minister regarding this issue were: the re-scaling of port activities at the Cargo Handling Corporation Limited in order to optimise resources; outsourcing of some services to private operators; creation of a Port in the Jin Fei region run under private management and having an internationally known strategic partner together with local shareholding, among others.
Source : GIS – 04 April 2023